Principal Newsletter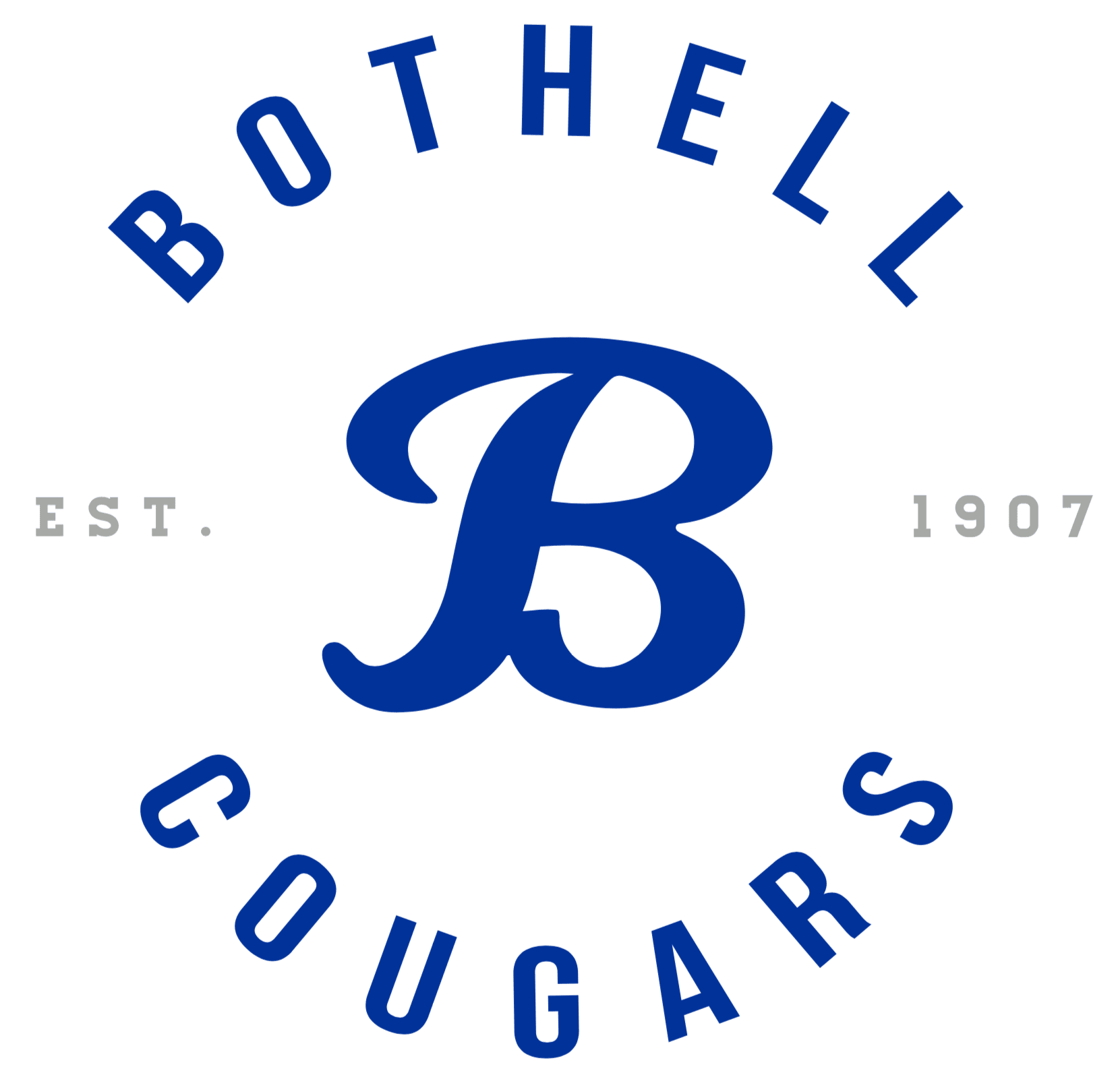 Cougar News
August 2020
WELCOME TO THE 2020-2021 SCHOOL YEAR!
From Principal Price
Hello Bothell High School Families,
I hope you've been able to spend time together this summer, enjoying the weather and relaxing. It's amazing how time flies and now suddenly we're just days away from the start of the 2020-21 school year. In my 24 years as an educator, I have never gone into a school year with more questions. As a result of the COVID-19 pandemic, all the rhythms and routines we've become accustomed to and have built around the launch of a school year feel disrupted and disordered. Back-to-school shopping for clothes and school supplies, getting fresh haircuts... much of that looks and feels different this year. Most of us are experiencing varying levels of anxiety around what this new year is going to look like and how things will work. In this month's newsletter, I'm sharing with you some of what we are doing behind the scenes to have a successful launch of remote learning on Wednesday.
Meanwhile, I want to thank you for your grace and understanding as we navigate this new experience. While many of you have questions and worries, know I will do my best to share information as soon as I get it. I wish you the best as we finish out the summer. Try to enjoy time outside and remember, no matter what's thrown at us, we will make it through! We will practice compassion, patience, and kindness! We are Bothell High School, and we always look after our Cougars.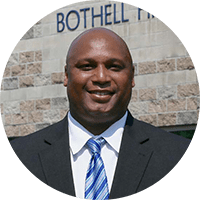 Sincerely,
Juan Price
Principal, Bothell High School
For Your Calendar: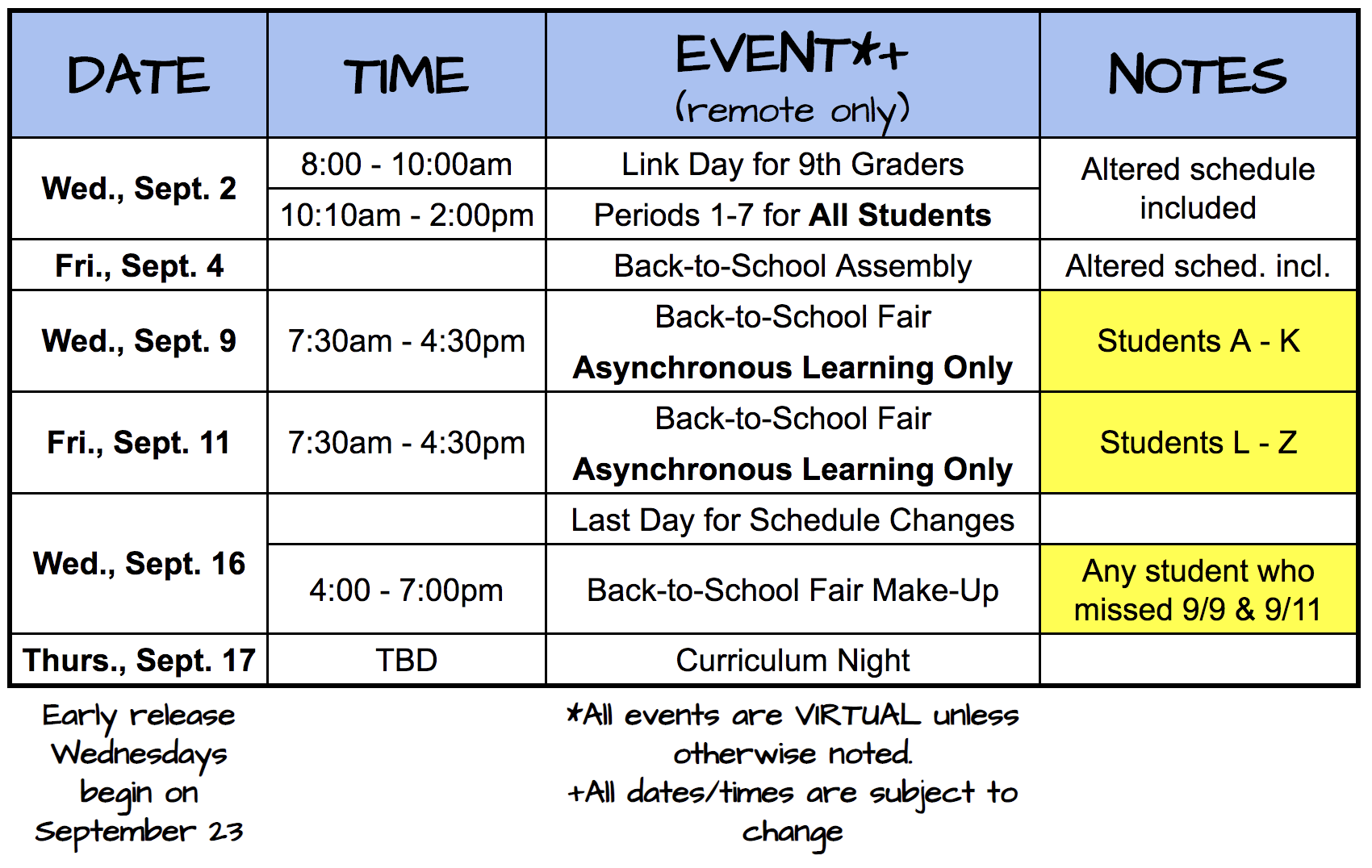 The intent of a "soft start" is to build community. Establishing classroom and school community is critical to the success of every student. To form the important relationships among teachers, students, and families, we've planned activities and experiences which will focus on making connections, getting to know one another, establishing positive classroom expectations, providing an overview of class content, and helping students and families engage in a 100% remote learning environment through technology tools like Schoology and Clever. It also allows time for students and families to pick up any required learning materials that will enable them to fully participate in remote learning (e.g. textbooks). The opportunity to make connections and build community was a common request as plans were developed this summer for the 2020-21 school year. Ultimately, the goal is working toward a successful launch to Northshore Learns 3.0 and a great start to the school year!
For more on Northshore Learns 3.0
LINK DAY FOR FRESHMEN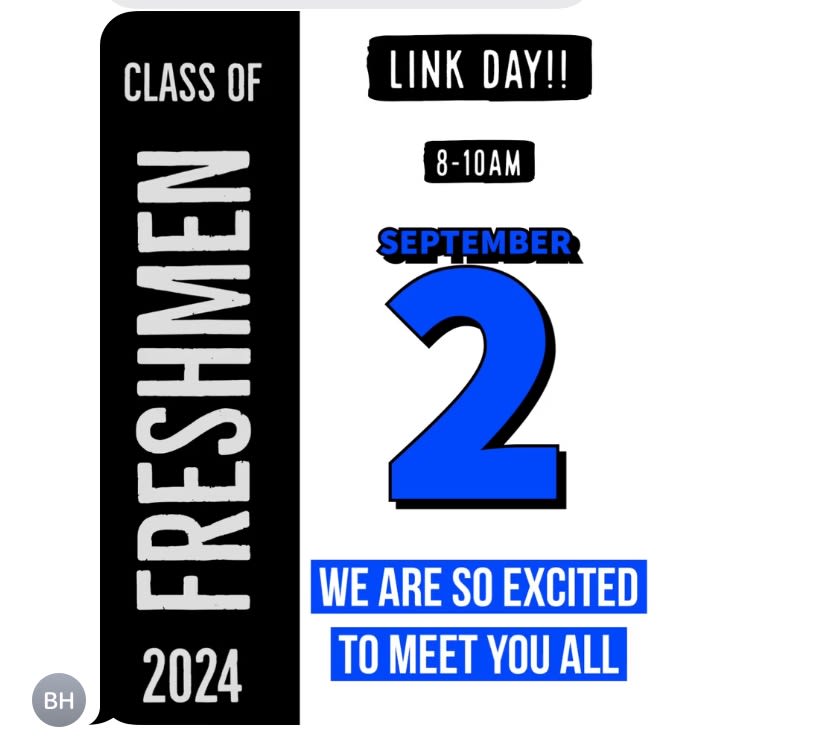 Freshmen, you should hear from Link Leaders by the end of Monday. They'll share with you the information you'll need to meet up on Wednesday at 8am.
Look for the Zoom link on Tuesday.
Parents will also receive an email on Link Day. Remember, this will be a virtual orientation. See you there!
After the Link Day event - and this is different from years prior - all grades will have an online school day on Sept. 2. Grades 9, 10, 11, and 12 will all attend Periods 1 through 7 starting at 10:10am. Schedule follows:
First Day of School - Sept. 2
Schedule for ALL BHS Students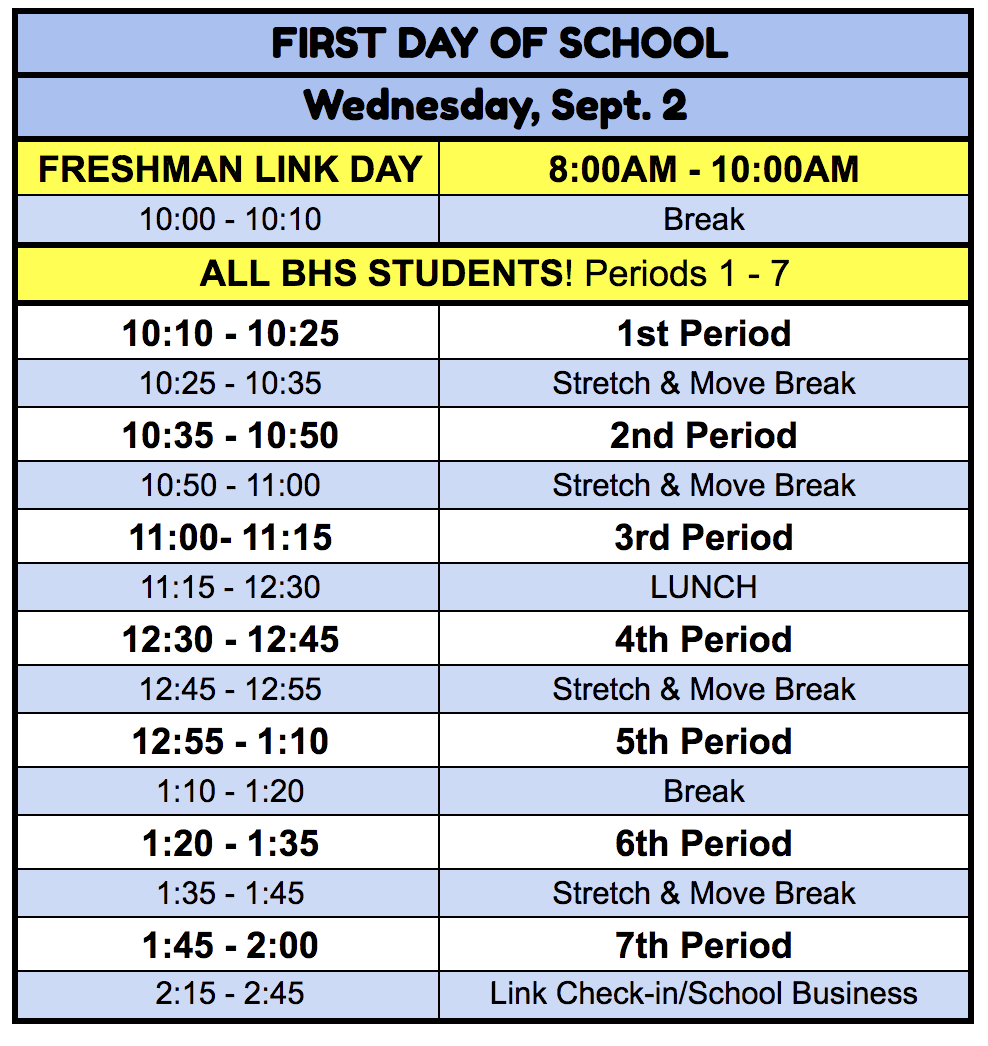 Back to School Assembly
Altered Schedule for Sept. 4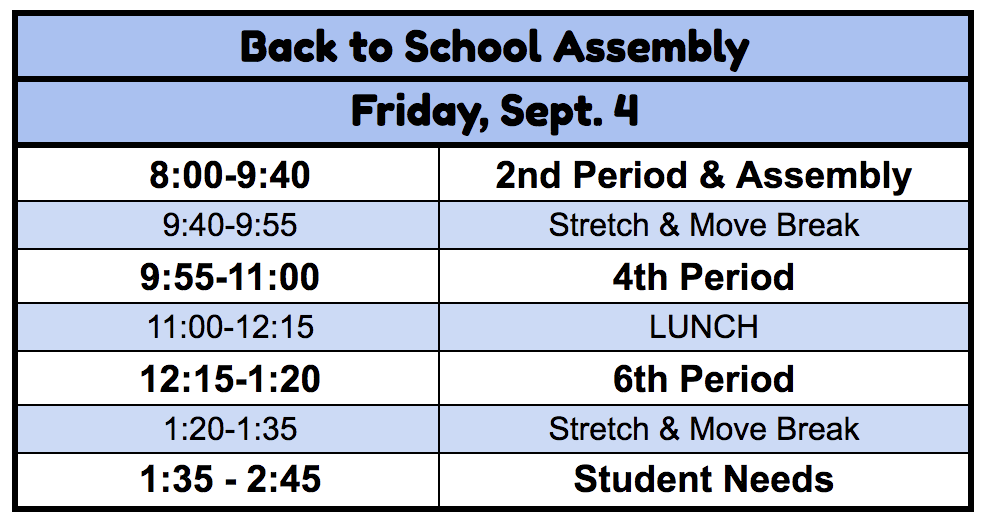 Teachers will broadcast our assembly to students sometime during
2nd Period.
PARENTVUE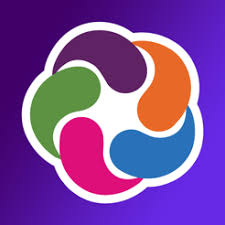 If you have questions about setting up your ParentVUE account or need an access key,
please complete THIS FORM.
ParentVUE/StudentVUE will be open to view schedules starting August 30th. Posted schedules are still preliminary and will be subject to change without notice.
They'll be official and final on September 2nd.
PARENT ORIENTATION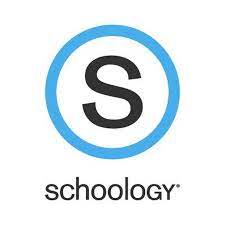 Schoology Sessions will be held at the following times:

Monday, Aug. 31 at 5 p.m. - Northshore Learns 3.0 Parent Orientation (in Spanish)
Tuesday, Sept. 1 at 8 a.m. - Northshore Learns 3.0 Parent Orientation (in English)
Thursday, Sept. 3 at 5 p.m. - Northshore Learns 3.0 Parent Orientation (in English)
Thursday, Sept. 3 at 6:30 p.m. - Northshore Learns 3.0 Parent Orientation (in Telugu)

Space is limited to 3,000 participants per session for the Q&A portion. Overflow will be directed to our YouTube channel where families can watch live. Also, each of the orientations will be recorded. To view orientations after they are recorded, visit THE DISTRICT WEBSITE.
PLEASE READ THIS LETTER FROM OUR COUNSELING DEPARTMENT.
Schedule changes can be made through September 16th, but please take advantage of the early appointments Counseling is offering. The sooner your schedule is squared away, the better!
Need to make revisions? Read our CLASS CHANGE POLICY first!
Schedule Change Policy at Bothell High School: Schedule changes are permitted for the following reasons:
• Missing required prerequisite
• Missing Graduation requirement
• Missing core academic requirements (such as no English)
• Duplicate classes (such as 2 PE classes)
• Running Start, WANIC or Satellite conflicts
• Obvious error (such as Junior in English 10)
• IEP or ELL placement issues
• Medical conflict (such as broken leg in PE)
• Needing college prep class to meet college entrance requirements (such as world language)
• Incorrect placement in class as determined by instructor
• Open (unscheduled) period
• Balancing class sizes (under-enrolled classes can be filled)
• Administrative withdrawal is required
Semester course changes may be allowed within the first 10 days without penalty. After the tenth (10th) day, courses dropped will receive an 'F' grade on student transcript. Any schedule change that does not meet these criteria is subject to administrative approval.
SCHOOL PICTURES
GREAT NEWS - School photos are happening!
It's been complicated finding a way to make this work while maintaining social distancing, but we've finally devised a plan with Dorian.
Students will have their pictures snapped during the Back-to-School Fair (Sept. 9 or 11). Lots more information coming about that event and those dates. But YES - there will be pictures, and you will be able to buy photo packages.
Here's what our high school days are going to look like...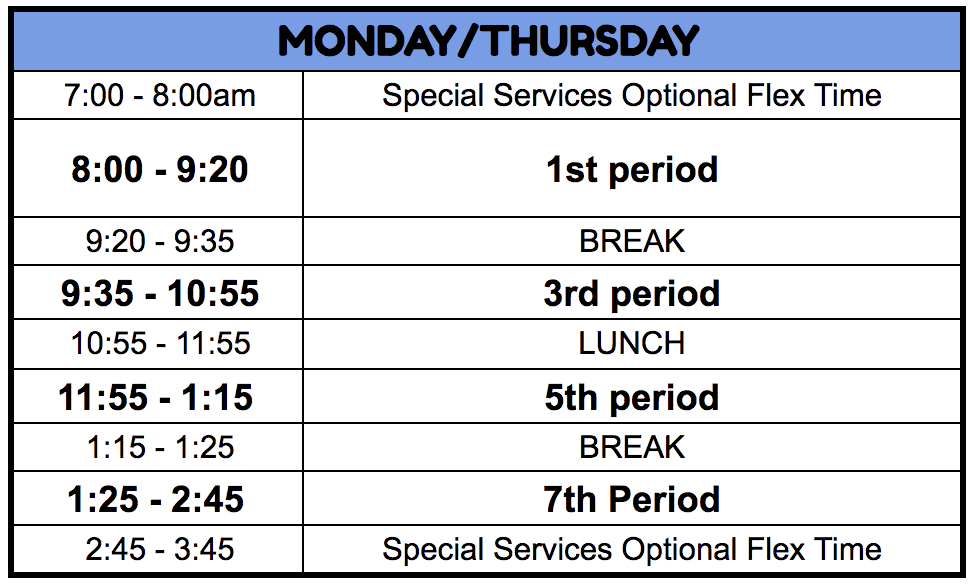 Mondays and Thursdays will be Blocks 1, 3, 5, and 7, with time built in for lunch. There's also flex time at the beginning and end of the day for special services.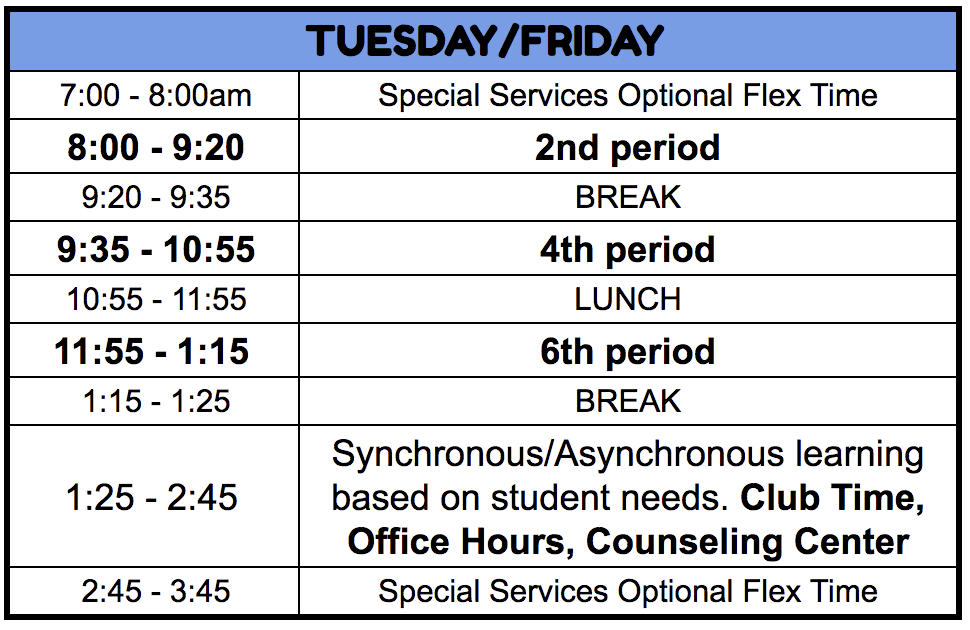 Tuesdays and Fridays will be Blocks 2, 4, 6, and lunch.
Afternoons will consist of:
Office Hours
Special Services
Social and Racial Justice Seminars
Specialist/Interventions
Student Connections
Social Emotional Learning
Counseling Support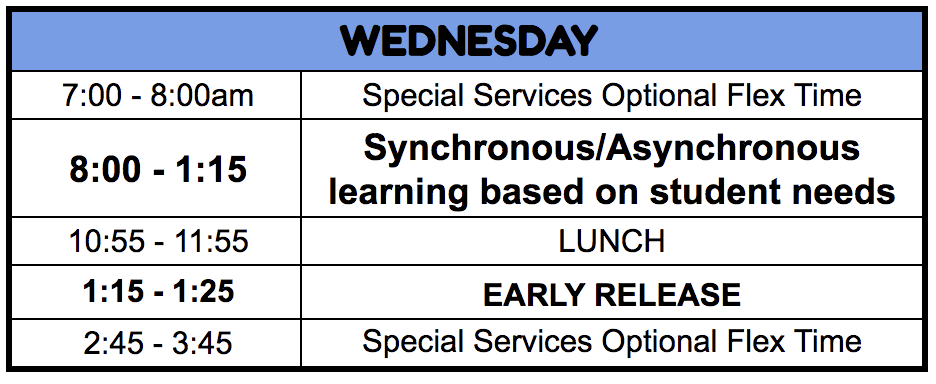 Wednesdays will consist of:
Office Hours
Special Services
Social and Racial Justice Seminars
Specialist/Interventions
Student Connections
Social Emotional Learning
Counseling Support
More on Northshore Learns 3.0 Schedules
LABOR DAY WEEK SCHEDULES
NO SCHOOL MONDAY, SEPTEMBER 7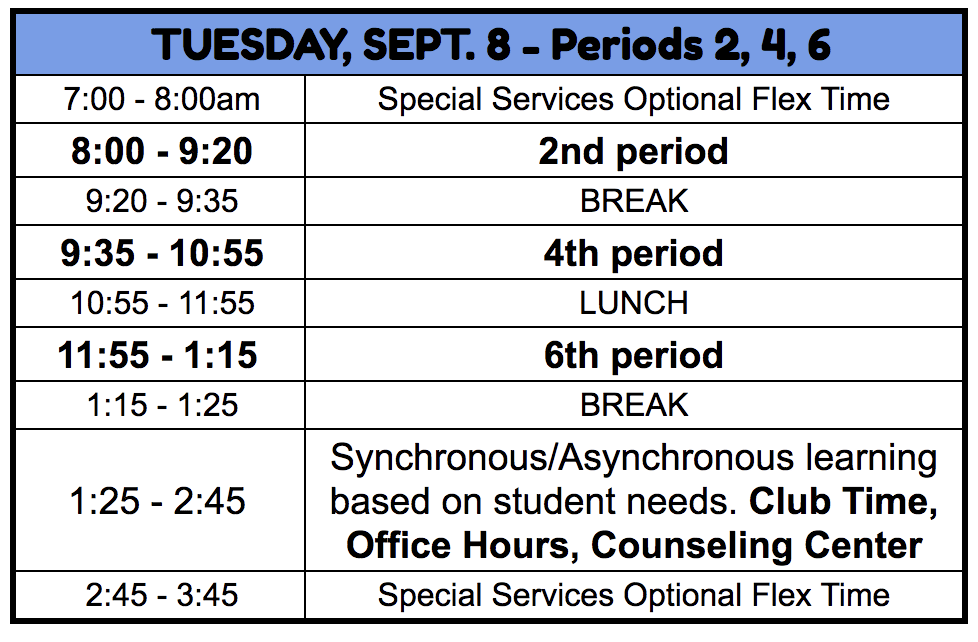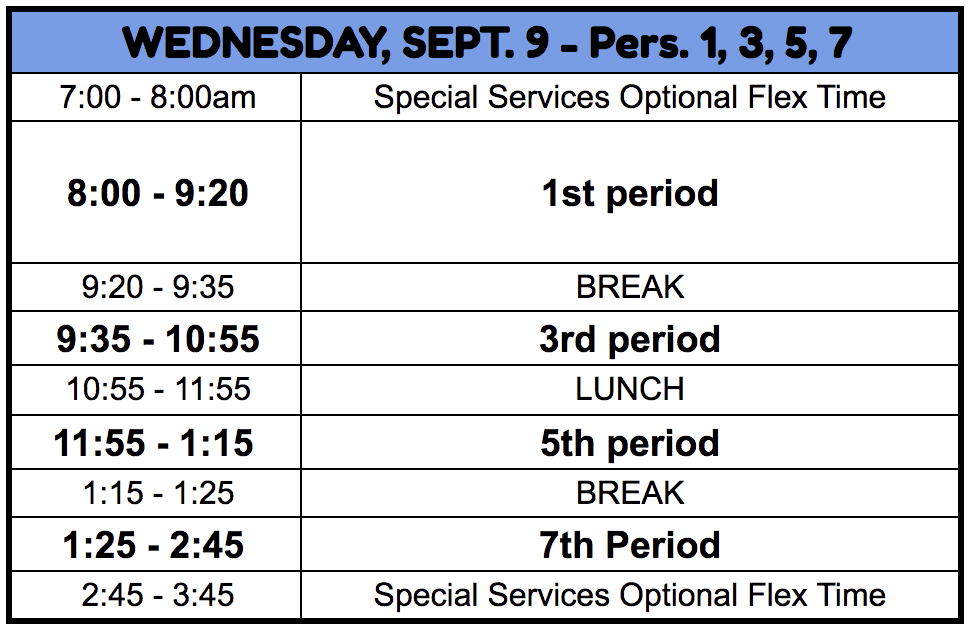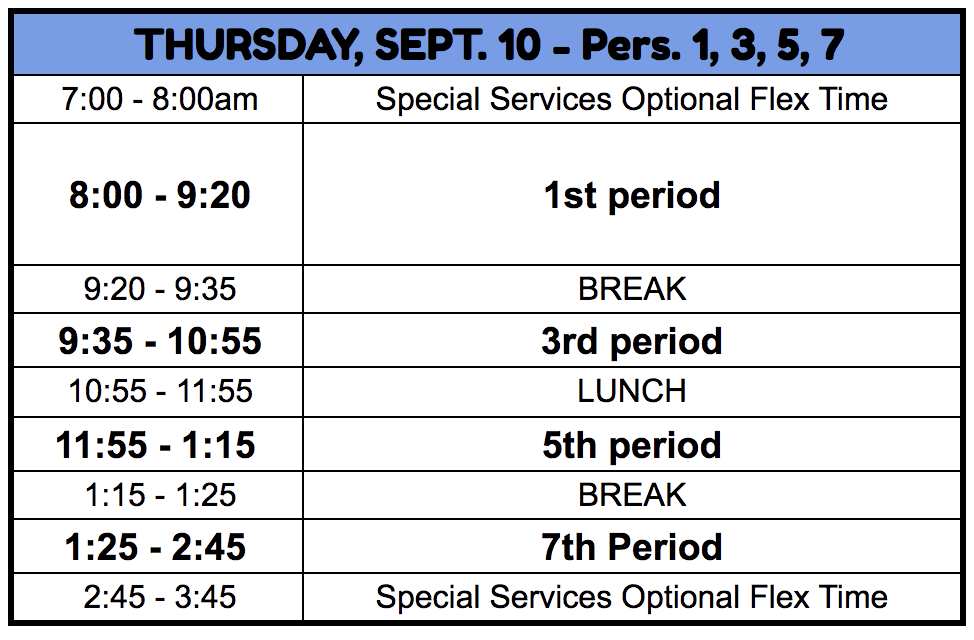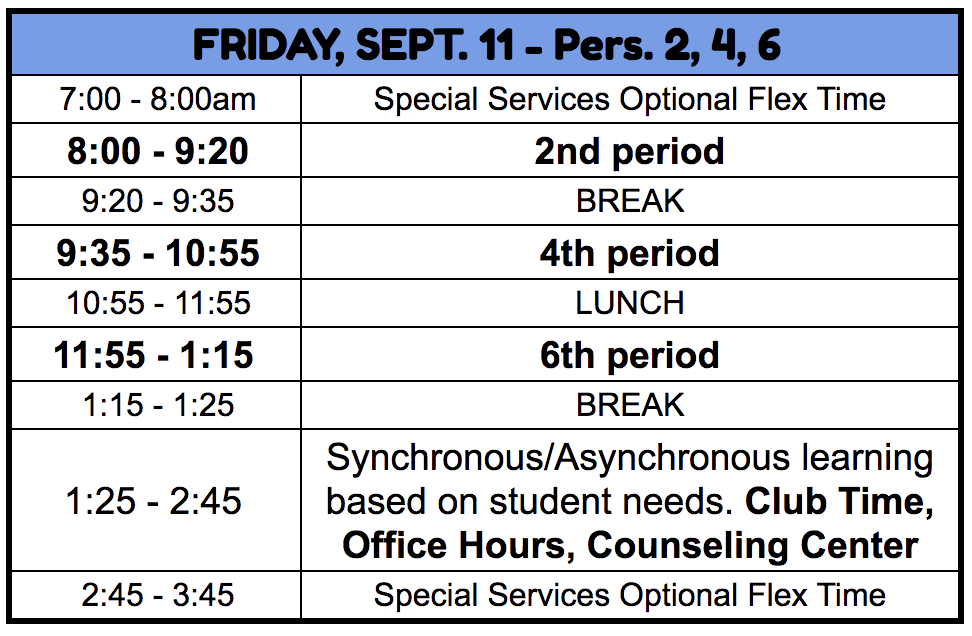 The Back-to-School Fair will take place on Wednesday and Friday of Labor Day week.
Asynchronous Learning will take place those two days to accommodate the fair. Details to follow soon.
Also, please be aware that we take the State Enrollment Count on Wednesday the 9th,
so it's especially critical to be at your classes.
STUDENT SERVICES
We've implemented all kinds of resources to help our students and families get underway during this unprecedented learning experience. If you need support, there are several ways to reach out to the district for help.
Here are quick buttons to take you to some frequent requests.
Free/Reduced Lunch Application
Get an In-Home
School Supply Kit
Donate Supplies
to the Foundation
Learn more about NS Foundation
CHILDCARE
Details for childcare during Northshore Learns 3.0 are now available! Please visit the DISTRICT WEBSITE to review the information and pricing from our community partners, Northshore YMCA and Champions. You may register for either provider, but please know space is limited.
The information is based on a Memorandum of Understanding (MOU) being finalized this week. The childcare providers have opened registration with the understanding that the MOU will be finalized before Sept. 2, 2020.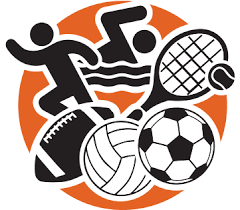 SCHOOL SPORTS
The WIAA has released a calendar for the school year in the event sports can be offered. The current plan is for the first season to run from December 28th to February 28th. It will include the following sports:
Basketball (Boys and Girls)
Gymnastics
Swim (Boys)
Wrestling (Boys and Girls)
Please keep checking our BHS Athletics Site for the most accurate and up to date information. Seasons/sports/dates are still subject to change based on what phase of Washington's Safe Start Plan we're in.
Optional Student Insurance - As a service, we are providing information regarding optional student accident and health insurance coverage administered by Myers-Stevens & Toohey, Inc. These low cost plans are distributed by many districts across Washington. Although they are not the only provider of this type of coverage, they have been recommended by our Washington Schools Risk Management Pool.
Student Insurance Brochure
English
Folleto de Seguro para Estudiantes
Español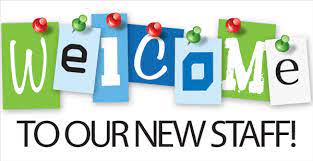 Bothell High School experienced some comings and goings over the summer.
We'd like to introduce you to the newest additions to our Cougar team:
Richard Brown, Jr. - Assistant Principal
Gus Reiber - CTE/Computer Science
Kevin Finney - CTE/Robotics
Trudy Swain - CTE/Careers in Ed
Erin Person - Counseling Secretary
Lindsay Eckle - Counselor
Jim Sanders - Counselor
Margaux Isaman - Math
Kyu-Suk Kim - Math
Kelley McKay - Math
Meghan Tubaugh - Science
Jack Holmes - Science Intern
Tina Hogan - Learning Center
Sarah Homer - Learning Center/Mid-Level
Kim Matthews - Social Studies
Kelly Sherron - Social Studies/English
Raina Sheth - ELL/ELA
Laurel Tronsen Aguirre - Spanish
Brooke Gaudet - Learning Center
Keenan Schoen - Learning Center
Geetha Sunderam - Learning Center
Russ Thornburg - Mid-Level
Sophia O'Brien - Mid-Level
Hanna Wolff - Mid-Level
Sean Chapman - Aspire Program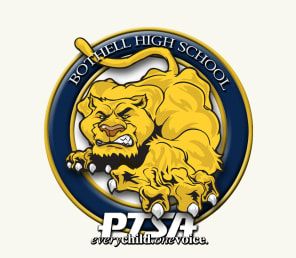 NEW YEAR,
NEW PTSA OPPORTUNITIES!
Bothell PTSA is active and already working on plans for the school year! To stay up to date please follow us on our Facebook Page (You don't need a Facebook account to view it), and our website. Both are updated regularly with information on events, meetings, volunteer opportunities and more!
Sign up for your PTSA Membership this year!
First meeting of the year will be October 15 at 6:30 PM, check our website for the Zoom information.
Interested in leading the charge for our Senior Big Bash this year?! Let us know by emailing Samantha Winsky, PTSA President.
Build. Belong. Become. Bothell.
Bothell High School | 9130 NE 180th Street, Bothell, WA 98011